Inspired by our love for everything bagel seasonings, each flaky wild-caught cod fillet is lightly crusted with a savory blend of onion, garlic, and poppy seeds for an irresistible taste and crispy crunch that is delicious with almost EVERYTHING!
Nutrition Facts
2 Servings Per Container


Serving Size 1 fillet (123g) and about 2 tbsp sauce (28g)

Breaded fillet

Breaded fillet w/sauce

Calories

180

250

% DV*
% DV*
Total Fat

3.5g

4%

11g

14%

Saturated Fat

0g

0%

1g

5%

Trans Fat

0g

0g

Polyunsaturated Fat

1g

3g

Monounsaturated Fat

2g

7g

Cholesterol

20mg

7%

20mg

7%

Sodium

410mg

18%

520mg

23%

Total Carbohydrate

20g

7%

22g

8%

Dietary Fiber

1g

4%

1g

4%

Total Sugars

0g

1g

Incl. Added Sugars

0g

0%

1g

2%

Protein

16g

16g

Vitamin D

0mcg

0%

0mcg

0%

Calcium

22mg

2%

25mg

2%

Iron

0mg

0%

0mg

0%

Potassium

396mg

8%

407mg

8%

* The % Daily Value (DV) tells you how much a nutrient in a serving of food contributes to a daily diet. 2,000 calorie a day is used for genreal nutrition advice.
70mg of EPA and DHA Omega-3 fatty acids per serving
Ingredients
LIGHTLY BREADED COD FILLETS
Ingredients:

COD, WATER, RICE, FLOUR, MODIFIED CORN STARCH, CANOLA OIL, PEA PROTEIN, DEHYDRATED GARLIC, POPPY SEEDS, DEHYDRATED ONION, MILLET, SALT, YEAST EXTRACT, DEXTROSE, CITRIC ACID, SUNFLOWER OIL, NATURAL FLAVOR, BAKING POWDER (BAKING SODA, DISODIUM PYROPHOSPHATE), SUGAR, PALM OIL, GUAR GUM, CORN MALTODEXTRIN.
Contains:

COD
SAUCE
Ingredients:

WATER, CANOLA OIL, DILL PICKLE RELISH (CUCUMBERS, DILL EMULSION), ONIONS, MODIFIED CORN STARCH, CAPERS, VINEGAR, SUGAR, ACACIA GUM, SEA SALT, LEMON JUICE CONCENTRATE, XANTHAN GUM, DRIED PARSLEY.
SPICES AND NATURAL FLAVOR DETAIL
LIGHTLY CRUSTED COD FILLETS:

NATURAL FLAVOR (Proprietary blend, allergen safe).
Check out our FAQs for more allergen information here.
Oven Cooking Directions
Step 1

Preheat oven to 425°F.

Step 2

Thaw sauce packets in water.

Step 3

Place frozen fish fillets on baking sheet.

Step 4

Bake fillets for 30-32 minutes*. Flip fillets at 15 minutes.

* Remember to fully cook fish to an internal temperature of 145°F or higher.

Step 5

Add sauce to fish fillets as you wish - as a topping or on the side as a dip!
Weeknight Inspiration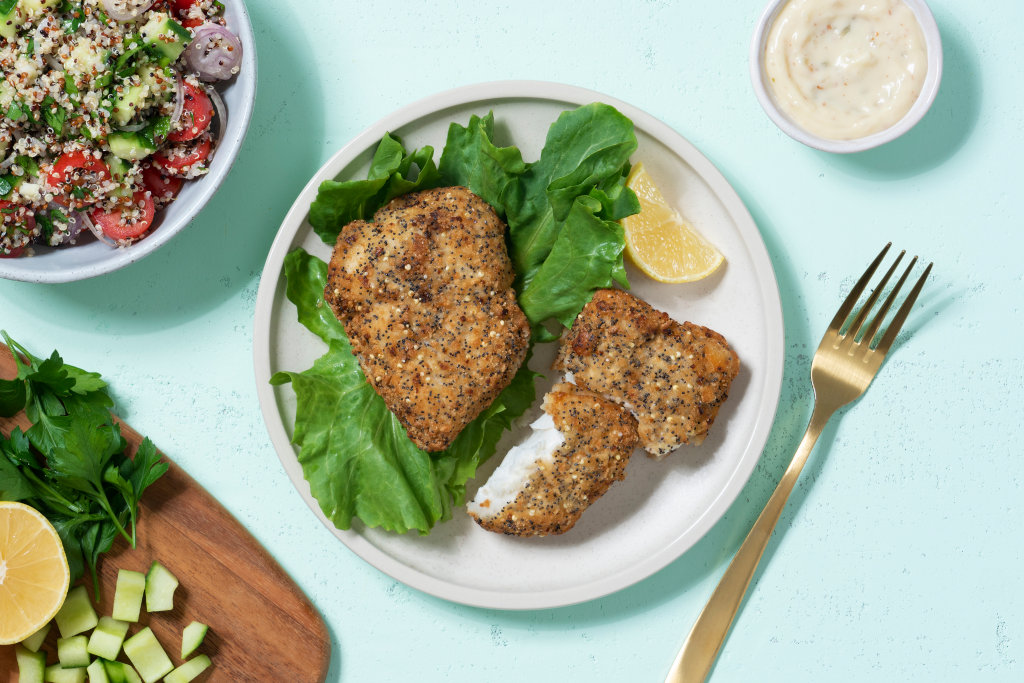 EVERYTHING CRUSTED COD WITH QUINOA TABBOULEH
TOTAL TIME: 30 MINUTES
SERVES 2
INGREDIENTS:
2 Hook Line and Savor Everything Crusted Cod fillets with Classic New England Tartar Sauce
1 cup quinoa
5 scallions, thinly sliced
1 English cucumber, seeded, peeled, and diced
1 cup parsley, finely chopped
1 cup mint, finely chopped
2 cups grape tomatoes, halved
Dressing: ¼ cup olive oil, ¼ cup lemon juice, salt and pepper to taste, blended
DIRECTIONS:
Cook fish fillets and quinoa according to package directions.
Thaw tartar sauce according to package directions.
Mix quinoa with veggies, herbs, and blended dressing.
Serve fish with quinoa tabbouleh.
Tip: Add red chili flakes to the dressing to give the tabbouleh a little kick!
About the Fish
Atlantic cod (Gadus morhua) is from the family Gadidae and is a marine benthopelagic fish, living near the bottom and in the open ocean. It is found on both sides of the Atlantic Ocean including eastern and northern coasts of North America, along the coasts of Greenland, and from the Bay of Biscay north to the Arctic Ocean, including the Atlantic waters around Iceland, the North Sea, and the Barents Sea. Atlantic cod is a favorite for its large white flakes and mild, non-fishy taste.
Use the catch code printed on the top flap of the carton and our catch code look up to find out where your Atlantic Cod is from!